---
Suburban School Staff
Mandy
Principal
Kia ora koutou.  I arrived at Suburban School in the middle of 2019, after teaching in a sole charge principal position in the King Country for 2 years.  I have over 10 years of experience in educational leadership in NZ and overseas, although I've only been a principal since 2017.  My passion lies in making education an enjoyable and exciting experience within a safe and supportive environment.  I am thrilled to be part of a team of likeminded staff and Board of Trustees, with a caring and supportive community.  The Suburban tamariki are energetic, caring, environmentally conscious and lifelong learners.  I love spending time with them in their classes and in the playground.  Outside of school I enjoy camping, biking and walking with my husband and two children, and handcrafts, gardening, badminton and reading in my quiet times.
---
Annie
Office Manager
---
Rebecca
Deputy Principal & Kea Teacher Years 2-4
Tena koutou, I started teaching at Suburban in 2011. I am passionate about teaching and especially the Fyffe FORCE ways of Kaikōura Suburban. My aim as a teacher is to foster and instil a love of learning in every child. I am lucky to work in such an amazing collaborative school who aims to set the tamariki up to become adaptive 21st century learners.
---
Rachel
Piwakawaka Teacher New Entrants/Year 1/2
Kia ora, I am the Piwakawaka teacher and have the fantastic year 1 students in my class. We use the FORCE values to make the most out of each day in a caring and supportive environment. I enjoy coming to school and seeing happy faces on excited Fyffe FORCE learners.
---
Jana
Titi Teacher Year 4
---
Michaela
Toroa Teacher Years 4-6
---
Lisa
Teacher Aide
I am lucky enough to have worked at this amazing, friendly wee school for the past two years.  I thoroughly enjoy working with the awesome children and knowing them all on a first name basis.  I love the flexibility that the L4L inquiry learning brings, and being able to help support them as they direct their own learning in a way that is interesting and fun, to them.  My Husband Russ and I have two children Annalise and Jacob a friendly dog called Lily and Poppy the cat.  I enjoy the outdoors, family cricket matches, being creative, Russ' homemade pizzas and spending time with the kids who are growing up fast.
---
Helen
Cleaner
Helen is our amazing cleaner who works very hard, with the help of her two boys, James and Hamish, to keep our learning spaces, toilets, and administration areas clean and tidy.  Our cleaning team have been extra careful to keep our high touch surfaces clean and sanitised since COVID began, and they go the extra mile to make sure our classrooms are spick and span!  We really appreciate their efforts in keeping us healthy and safe.
---
Lloyd
Caretaker
Lloyd is our fantastic caretaker who does whatever it takes to keep our school grounds tidy, safe and healthy places to play and learn.  He enjoys spending time with the tamariki also, by helping them with woodwork and other projects, maintaining their bikes, or by them helping him out in the playground by collecting litter or doing the recycling. We all think we are super lucky to have Lloyd keeping an eye on our school environment for us.
---
Board of Trustees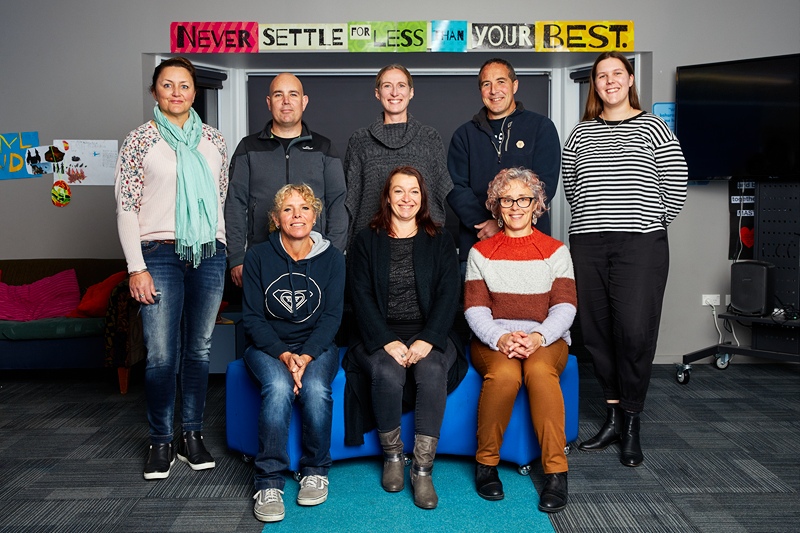 The Board of Trustees is an elected group made up of members of the school community.
The BOT is responsible for:
The governance of the school
The making, reviewing and implementing of policies
Accountability for the correct use of government funds
The maintenance of the school property and buildings
Consultation with parents
Working with the principal and staff for excellence at the school
Current 2019-2021 members are:
Chair: Susanne Dunnett
Parent Reps: Jodie Denton, Brendon Macphail, Margaret Bignell, Shannon Wards
Principal: Mandy Woods
Staff Rep: Michaela Watt
Board Secretary: Michelle Ormsby
Parents and prospective parents are encouraged to contact the Board Chair or Principal with questions, comments or concerns:
Board Chair: Susanne Dunnett
Email Susanne
Principal:
Email Principal